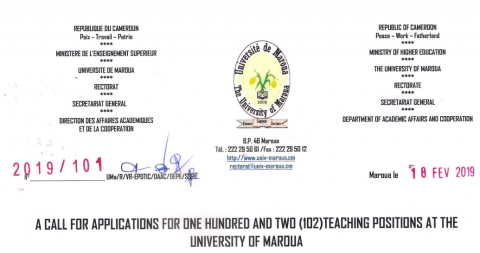 The Rector of the University of Maroua announces to the public that, in conformity with the instructions from the President of the Republic, Head of State, and the authorisation from the Prime Minister, Head of Government, one hundred and two (102) positions have been opened at the University of Maroua, in accordance with the Special Recruitment of one thousand University Teachers in the State Universities in 2019.
This call for applications is addressed for people who have Cameroonian nationality, aged at most 45 years from 1st of October 2019 and holders of a Doctorat or a PhD degree
Download this call in english or in french
Le Recteur de l'Universite de Maroua porte à la connaissance du public que, conformément aux Très Hautes Instructions du Président de la République, Chef de l'État et à l'autorisation du Premier Ministre, Chef du Gouvernement, il est ouvert à l'Université de Maroua cent deux (102) postes dans le cadre du recrutement spécial de mille (1000) enseignants, au titre de l'exercice 2019.
Cet Appel à Candidature s'adresse aux personnes de nationalité camerounaise, âgées au plus de 45 ans révolus au 1er octobre 2019 et titulaires du Doctorat ou du PhD.